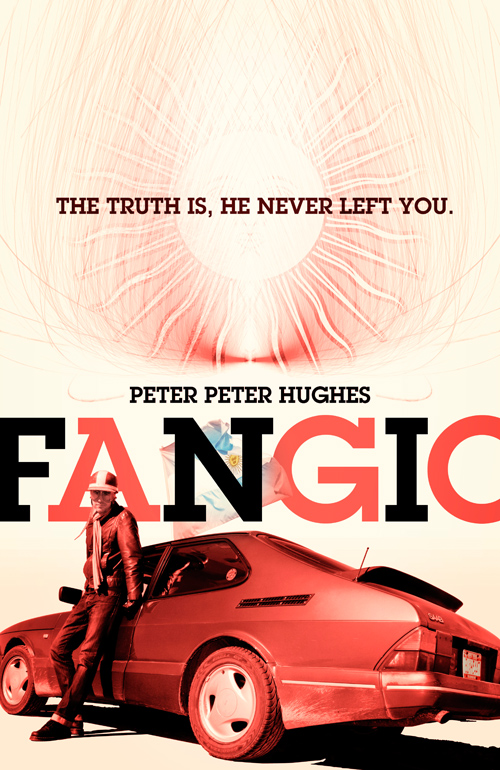 Hear, hear! As of today, we are officially in business: Fangio is now available as a guilt-free digital download from iTunes, eMusic, and Amazon. Turntable-enabled physical object–fetishists may still order our beautiful numbered vinyl editions directly from Fayettenam, of course, and are encouraged to do so!
Big picture fans are likewise encouraged to click on Davey G. Johnson's brilliant Evita send-up, above, for the full-res version. Suitable for framing, or multiple-story Diego Rivera-style hand-painted murals, your choice.

For those who might still be wondering, What the fuck is this? I offer this brief summary:
When I was seventeen, for reasons that will remain forever inscrutable, I wrote a song for my Casio-powered solo project Party of One which imagined the 1950s race car driver, five-time Formula One World Champion, and Argentine icon Juan Manuel Fangio piloting a then-current 1980s-model Saab 900 Turbo across the Andes mountains on a covert mission to assassinate the Chilean dictator Augusto Pinochet. It sounded like this:
Audio clip: Adobe Flash Player (version 9 or above) is required to play this audio clip. Download the latest version here. You also need to have JavaScript enabled in your browser.
Twenty-three years later I bought a well-traveled example of the ingeniously versatile car that accompanied the hero of that song, and began writing songs for an album that would pick up where "A Fangio for the '80s" left off.
The real-life Fangio died in 1995, long retired from racing. On the track he'd been known as El Maestro—the teacher—and a legendary bad-ass. Off it, he was El Chueco—most commonly translated as "bandy-legs"—short, squeaky-voiced, the very essence of good-natured humility and universally beloved for it.
The Fangio of my imagination is slightly different. He's still alive for one thing—though by what Borgesian mechanism it's never made clear—and so haunted by his own refusal to speak out against the atrocities of Argentina's Dirty War that he's gone underground as a sort of international rogue agent, beholden to nobody and determined to clear his conscience by evening the score: against the CIA, against the cartels, against every agent of oppression that conspired to terrorize and exploit the people of Latin America over the last half century. This album should be properly read as one part DC comics, one part Tom Clancy novel, and one part Marxist revolutionary tract.
Fangio was recorded entirely at home, by me, using GarageBand—which, in its ubiquity, cheapness, and user-friendly simplicity, I regard as the clear 21st century successor to my old Casio MT-100. And it sounds like New Order because I've always wanted to play in a band that sounded like New Order. I make no apologies.
COMMENTS / 3 COMMENTS
SPEAK / ADD YOUR COMMENT
Comments are moderated.
BROWSE / IN

Supplementary